1) X company has been named so because first location of factory started in a place called Vile X, while Vile X has been derived from the names of two temples, Virleshwar and 'X'shwar. Its first location ceased operations in 2016 and now it houses Mumbai Chhatrapati Shivaji Domestic terminal. I'd X
Ans – PARLE
2) Mysonikudi.com is a social media experiment which objectified women by compartmentalising in segments like wonder chef, bachat focused, agyakari, gharelu, sanskari etc. This website created outrage among people and some 4000 people also registered in it. Which media house is behind this social media experiment.
Ans – ZEE
3) A new channel launched on 12 feb has reported a reach of 140 million reach on first day – a feet never achieved before in the annals of TV history in India. Which channel
Ans – Discovery Jeet
4) The founder of this famous brand died when trying to kick an iron safe in order to open it and take the product. About which person I m talking.?
Ans – Jack Daniel
5) This brand born in 1847, with initial 4 letter taken from name of his 5 year old son and rest five letters is the Danish word for Hill, identify this brand.
Ans – Carlsberg
6) Identify the Company with this new logo.?
Ans – V Guard
7) In honor of International women's day 2017, McCann partnered with State Street global agency to introduce something to the world which became a global phenomena within 24 hours, what?
Ans – Fearless girl
8) Old monk rum has a very deep connection with what become a turning point in India's struggle for freedom. What's the relation with the bloodbath that these English caused.
Ans – Mohan meakin maker of old monk acquired dyre meakin breweries which was started by father of General Dyre ( Responsible for Jalianwala Bagh Massacre)
9) She is Tracey Crouch, newly appointed in UK as minister of what?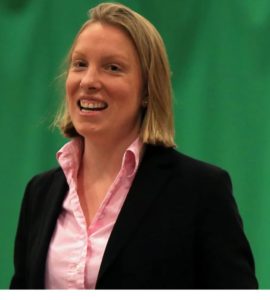 Ans – Minister of Loneliness
10) Connect – Vicks,  Stanford Graduate School of Business and Golden Gate Bridge.
Ans – Roy Raymond (Founder of Victoria Secret), He workd in Vicks, Studied at Stanford Graduate School of Business and done suicide at Golden Gate Bridge.
No Business can run now without consideration of environment. So we will be listing one extra environment or ecology related question in every post. 
11) Environment Question – Which country has been announced by United Nations that will be a global Host for the World Environment Day 2018.?
Ans – India